Mother-Daughter Duo Launch Kitchen Tune-Up Atlanta Kennesaw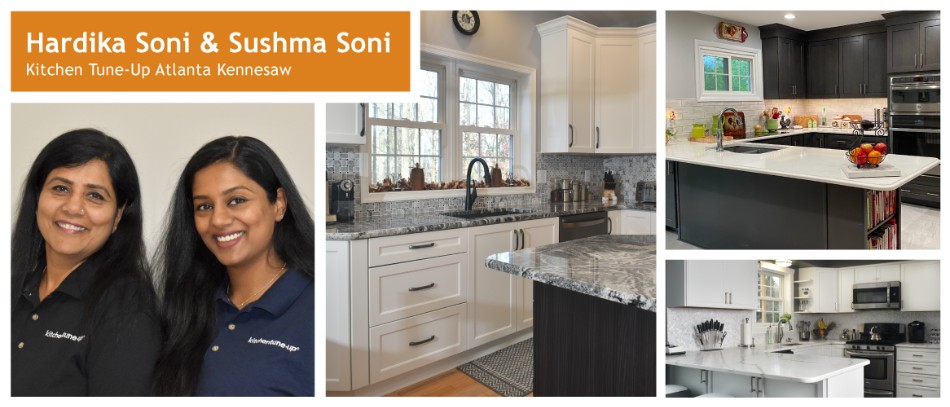 Hardika and Sushma Soni, a mother-daughter duo who own Kitchen Tune-Up Atlanta Kennesaw
Mother-daughter duo Sushma and Hardika Soni bring their love of family and strong focus on the community to their new Kitchen Tune-Up franchise in Kennesaw, GA.
Hardika, who was a dental hygienist before joining Kitchen Tune-Up, says she enjoyed every aspect of her work and felt motivated daily by watching patients' progress. But she wanted a new career that gave her more time with her growing family—she and her husband Divya just had their first child.
Sushma will apply her own extensive management experience to Kitchen Tune-Up. She was an administrative coordinator at a major retailer for many years, delegating tasks, handling customer inquiries, complaints and compliments, and ensuring the store always functioned smoothly. Those skills are a great fit for a Kitchen Tune-Up franchisee.
Franchising Brings "Peace of Mind"
The franchise business model attracted the Sonis because it gives owners an already proven model that owners can "supercharge" with their own efforts, Hardika says. She and her mom are motivated by "putting in the work to make ourselves more successful, versus contributing to big corporations' success."
They chose Kitchen Tune-Up for its family-oriented environment, Hardika notes. The Sonis appreciate learning from the best practices and experiences of other Kitchen Tune-Up owners, too. "This has given us peace of mind and confidence in following the process to succeed efficiently and effectively," she says.
Kitchen Tune-Up's virtual training for its new franchisees worked well for the Sonis, Hardika says. "It was fantastic to be in the comfort of my home and still feel engaged during the learning process." She appreciated being able to carry out her routines at home, eat home-cooked meals and sleep in her own bed, all while spending hours each day intensively learning the ropes of ownership. Her one wish: "I would love to have an opportunity to visit the home office and the Homies in person someday."
Community and Cooking
A core value for both mother and daughter is ensuring their business contributes to the local community. "Being part of Kitchen Tune-Up family as a Tunie has provided me with the opportunity to continue impacting lives of the local community in a positive way by providing customers with options to make their day-to-day functioning in the kitchen more enjoyable," Hardika says.
Sushma adds, "I enjoy being involved in the local community and providing meaningful contributions, and I strongly feel that being a Kitchen Tune-Up franchise owner will enable me to do that."
Sushma and her husband Mahesh enjoy cooking a feast whenever they can. When Sushma's not working, she goes on long walks, connects with friends and family, and recently she's been learning to meditate. Hardika says she and Divya love being outdoors, hiking, cooking, and "finding green ways to contribute to a better living environment."
With their shared love of cooking, the Sonis agree that their kitchens are the hearts of their own homes. They want to help Kitchen Tune-Up customers feel the same way. "Our passion is in optimizing the available space and finding creative ways to revive the kitchens of our customers so that they love their space more than they ever did before," the pair notes.
Learn more about Sushma, Hardika, and Kitchen Tune-Up Atlanta Kennesaw by visiting their Facebook page and website.