Owner Spotlight: Embracing Community in Avon, IN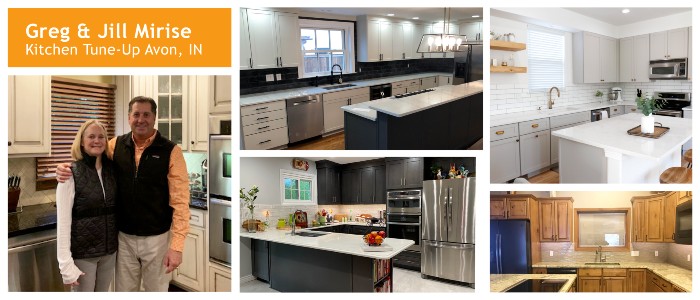 Greg and Jill Mirise, owners of Kitchen Tune-Up Avon, IN since May 2020.
Greg Mirise recalls his most memorable kitchen renovation—his own.
Long before Greg joined Kitchen Tune-Up, he and wife Jill got their kitchen remodeled, a six-week "gut job" that included lots of demolition. For Greg, weeks of cooking in a makeshift kitchen upstairs were ultimately worthwhile because his home's renovated kitchen is so important to his family: "To this day, it remains the heart of our home, and a conversation piece with all visitors," he says.
Greg appreciates why homeowners value-efficient, welcoming kitchens. Now, as the owner of Kitchen Tune-Up Avon, IN, he'll bring beautiful kitchens to customers in one to five days (no weeks of disruption required!).
The Indiana native spent 27 years in consumer finance including retail financing, mortgage lending, and sales management. Greg wanted to become a business owner to "control my own destiny…build and scale the business in my own market, with the opportunity to expand," he says. "I can make this my legacy project and build a strong business for my children, or we can set a goal to sell for early retirement, or just continue to own."
He's learned that working in a field new to him means he has to be patient with himself. "I can adapt and learn," Greg says, "but [it] must coincide with patience and confidence, and control my competitiveness, as I can't become an expert overnight."
Staying Connected
Kitchen Tune-Up encourages owners to support their communities. For Greg's family, that priority is already ingrained.
Jill is a lifelong Hoosier like Greg, and after 16 years in Hendricks County, the family is deeply rooted there. Jill teaches elementary school, and thanks to teenage daughters Ashlyn and Gabby, the family is involved in youth coaching, high school sports, and music. Volunteering is a way of life for the Mirises, too. "We like to stay involved and connected with our great city and local community," Greg says.
The active Mirises love sports, family vacations, and their home. "We have always taken pride in our courage to take on many home improvement projects," Greg adds.
Greg looks forward to the work ahead. "We have a unique niche in the market and ability to help more customers within different price points," he says. "The kitchen is the heart of everyone's home and helping someone improve this space creates happiness and long-term satisfaction."
Take a look at what Kitchen Tune-Up Avon, IN is doing. Visit their website and check out their Facebook page.