Owner Spotlight: Looking for Adventure in Louisiana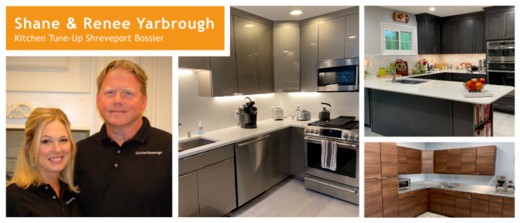 Shane and Renee Yarbrough, owners of Kitchen Tune-Up Shreveport - Bossier, Louisiana
People join the Kitchen Tune-Up family in many ways. Some are retiring but want a new challenge. Others are mid-career and need a change. Not many have direct experience with kitchen renovation as a business.
Then there's Shane Yarbrough. Shane comes to Kitchen Tune-Up by an unusual route: He worked as a sales representative for one of Kitchen Tune-Up's suppliers.
When Shane and his wife Renee relocated from Colorado back home to their native Louisiana, they wanted to become business owners. Shane already knew just what business would work for them. After years of working directly with Kitchen Tune-Up owners from the angle of a supplier, he believed that Kitchen Tune-Up was the right choice for his own family.
As the owners of Kitchen Tune-Up Shreveport-Bossier City, LA, the Yarbroughs are focused both on giving customers great service and treating employees with respect, Shane notes.
"We are excited to provide a quality service to our community, and assist homeowners to increase their quality of life, and raise the investment in their homes," he says.
Franchise owners will be satisfied with Kitchen Tune-Up too, Shane says. The virtual training covered everything he and Renee needed to know to open their business, and he found that experienced owners were, and are, a help to new ones. He advises new Tunies to "ask many questions [of] current franchise owners about what works and doesn't work for them. Everyone is consistent about following the process to achieve success."
The Yarbroughs' mission statement, which every KTU owner tailors to reflect his or her own special priorities, is " Kitchen Tune-Up Shreveport-Bossier City takes pride in providing our community with unparalleled service and products to homeowners to achieve an amazing transformation in their home. Helping to update and elevate their kitchens quickly, safely, and to the highest standards of quality and workmanship. We listen to customers' wants and needs and deliver on their expectations. We take pride in providing homeowners an enjoyable and satisfying experience while achieving amazing results."
When a local business publication profiled the Yarbroughs, Renee noted that Kitchen Tune-Up's established reputation for service, results, and trust is something of which they're proud. "There isn't another endeavor we'd rather be committed to professionally. We are as motivated as ever and Kitchen Tune-Up is the reason why," she told BIZ Magazine.
Renee, a registered nurse with long experience in neonatal intensive care, and Shane both stay busy with their seven children and seven grandchildren. The couple also loves the outdoors and travel. "We're always looking for the next adventure," Shane says.
Want to learn more about Kitchen Tune-Up Shreveport-Bossier City? Visit their website and Facebook page!