Owner Spotlight: Ready for Business in Winston-Salem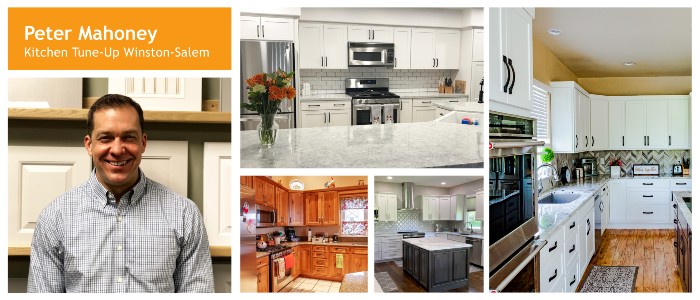 Peter Mahoney, owner of Kitchen Tune-Up Winston-Salem
Kitchen Tune-Up continues to grow, and in January 2020, the Kitchen Tune-Up family welcomed another premiere location to our lineup. Peter Mahoney has set up shop in Winston-Salem, NC, and has been diligently serving the area ever since.
From construction to cabinetry
Peter comes from a long career in the construction industry, managing the renovation of high-rise buildings and luxury apartments. Kitchen Tune-Up was the perfect opportunity for him to strike out on his own and bring his building and construction expertise to smaller, more personal projects. Working with multi-million dollar construction projects is great, but there's something so appealing about working directly with homeowners to create their dream projects.
Home service franchise within "a proven system"
Peter was encouraged to explore the world of franchising because he knew he wanted to grow his own business within a reliable system. By establishing himself as a Kitchen Tune-Up franchisee, he knew he'd have access to support and resources unavailable to many other new entrepreneurs.
"Franchising with the right company gives you the proper guidance to grow your business"
After first testing the waters with several other startups, Peter realized that the built-in marketing and customer base franchising offers was the safest way to reliably grow beyond those first few customers. He's been in business since January with no signs of slowing.
For Peter, growth is a must. He chose to become a franchise owner because he knew Kitchen Tune-Up could offer him continual opportunities to expand and grow his business. As his customer base expands, he plans to offer more services and stretch his remodeling reach to an even larger area.
It's been a great six months. Here's to many more!
Interested in starting your own Kitchen Tune-Up journey? Whether you're looking for a new kitchen in the Winston-Salem area or you're curious about joining the KTU franchise family, head over to Peter's website to learn more about his team and their work.
Check out samples from Kitchen Tune-Up Winston-Salem's project gallery here.