The Biggest Benefit to Franchise Ownership: Home Office Support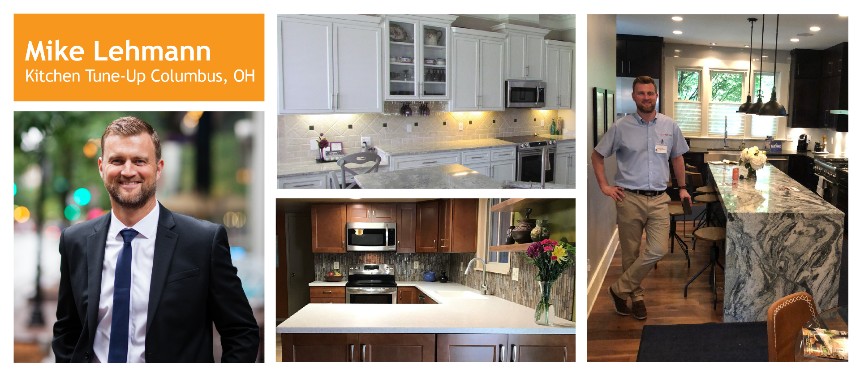 Mike Lehmann is no stranger to business ownership. After coming to the United States from Germany, he started his own cell phone accessory business from the ground up. He successfully sold the business and started looking for his next venture when he had his kitchen updated by another Kitchen Tun-Up. He fell in love with the concept and started asking a lot of questions and before long he was bringing fast and affordable kitchen updates to his neighbors in Columbus, Ohio. When we asked him what the biggest benefit was the franchise ownership versus starting a business from scratch, he said "Support from the awesome team at the home office has been such a huge help in getting started as well as continuing to grow my business."
Check out what else Mike had to say when we checked in with him recently:
What was your career before becoming a Tunie?
I owned a cell phone accessory business but fell in love with Kitchen Tune-Up after having my own kitchen re-done. I ended up partnering with another owner on a house flip and then decided to buy my own franchise!
Why did you want to become a Kitchen Tune-Up franchisee?
I really liked the investment to potential growth ratio. I also like the products and the overall quality we can offer to our customers.
What comes to mind as your most memorable kitchen update?
We did a refacing project for a guy who worked at the zoo. He was so happy with everything that he gave all my installers and their families zoo tickets.
Any advice for someone thinking about making the leap and buying their own franchise?
Do it! Most people (like me) overthink it. It's a lot of hard work, but totally worth it.
What was the biggest motivator to WHY you bought your own franchise?
I wanted to see if I could change industries and be just as successful. I love a challenge.
What have you found to be the biggest benefit to franchise ownership?
The support from our awesome team at the home office has been such a huge help in getting started as well as continuing to grow my business.
Who is involved in your business?
I have 4 full-time installers, 2 part-time installers, and someone who helps me with the back-office work.
What is your Mission Statement?
We want to be what everybody promises to be - good communicators, on time, clean up every day, be respectful of the home, and deliver the best job possible
Why do you enjoy being a kitchen remodeler?
The instant change - it only takes a few days to make such a big difference in people's houses and their lives. The kitchen is the main gathering point in most homes, so we can really change the way customers entertain and that's a big deal to me.

If you are interested in owning your own Kitchen Tune-Up Franchise, you can fill out an application here or contact us today.