Why I Bought A Franchise: A Fast Way to Build a Solid Business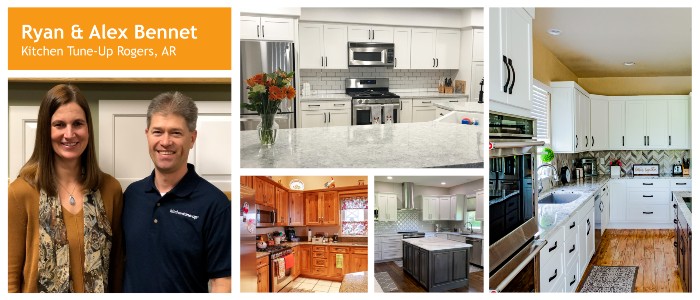 Ryan and Alex Bennet, owners of Kitchen Tune-Up Rogers, Arkansas
Kitchen Tune-Ups dot a lot of the U.S. map, and we're excited to say one of those dots has settled in Rogers, Arkansas. Ryan Bennet and his wife, Alex have taken the lead as the premier kitchen remodeling team of northwestern Arkansas.
Ryan Bennet was no stranger to home makeovers. Both he and Alex brought years of home construction experience to the table. In fact, before coming to Kitchen Tune-Up, Ryan was the vice president and minority owner of a general contracting company. For over two decades he saw home projects through from start to finish, including carpentry work, painting, and even cabinets.
With Ryan's background, Kitchen Tune-Up was a match made in heaven, but his comfort in the home remodeling industry wasn't the only thing that drove him to start his own Kitchen Tune-Up.
"I had a deep desire to run and operate my own company"
After working his way up to vice president in the construction industry, Ryan was ready to tackle having his own company. But the traditional road to profitability loomed slow and arduous, so Ryan began vetting different franchising options, knowing he would be able to get his dreams off the ground much quicker.
That was when he and Alex discovered Kitchen Tune-Up and the rest, as they say, is history. According to Ryan, the culture and staff at Kitchen Tune-Up just clicked with him and Alex. They knew they were in the right place, and working with Kitchen Tune-Up gave them the opportunity to continue serving their native Arkansas area by setting up shop in Rogers.
If you're curious about the projects Ryan and his team already have under their belt, you can check out their project gallery, where you'll find some of the best kitchens looks on this side of the Great Plains. Ryan's team can be found on Facebook or be contacted at (479) 320-9090.
To start your own Kitchen Tune-Up journey, visit ktufranchise.com.