Invest in Yourself. Own a Kitchen Tune-Up Franchise.
Are you ready to explore Kitchen Tune-Up franchise ownership?
Owning a Kitchen Tune-Up is a great franchise investment and a way to take charge of your financial future. Our kitchen remodeling franchise has a low initial investment, and we offer partial in-house financing.
Kitchen Franchise Investment Costs
$79,950 Initial Investment Fee
$49,980 Working Capital Required†
---
$129,930 Total Investment
-$48,000 In-House Financing Available†
---
$81,930 Total Cash Required
†Refer to the 2023 Franchise Disclosure Document for details.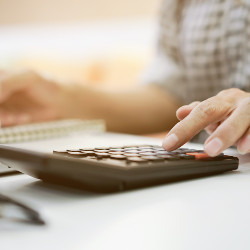 All-Inclusive. No Experience Necessary.
A low initial investment of $79,950 covers your franchise fee, exclusive territory, and more. You'll have everything you need to go from dream to ownership, including:
Computer and iPad with all manuals and supplier information

Product samples: doors, trim, colors, stains, hardware

Starter marketing materials: brochures, business cards, folders

Home Show exhibit pieces: booth, pop-up banner, branded tablecloth

Starter supply of Kitchen Tune-Up branded clothing

Employee hiring and onboarding software

Training: 4-week pre-training online course (home study),

14-day training (combination of virtual and live at the HFC Experience Center in Dallas)

12-week post-training action plan

Complete operating system: proprietary software, business operations manuals

Business coaching and support: access to 2 private podcast channels, weekly and monthly live webinars, and Regional Operations Manager support

Starter product inventory for wood restoration and tools for refacing

National group buying power

Specialized tools
Kitchen Tune-Up Offers In-House Franchise Financing
Make your investment in a Kitchen Tune-Up franchise more affordable. We're excited to have in-house financing to qualified candidates. Ask a Kitchen Tune-Up Franchise Advisor for details. If you would like to secure financing on your own, some of our current franchisees have found franchise financing through other companies, learn more about these resources by clicking on the button below.
Learn More
Veterans Save 15%
If you are one who has served your country in uniform and are considering a post-military career, you may already have what it takes to be successful as a home-based franchise business owner. As a thank you for your service, qualified Veterans will get a 15% discount off the purchase price of a Kitchen Tune-Up franchise. It's our way of saying thank you for your service.
Learn More
4 Winning Reasons to Own a Kitchen Tune-Up Franchise
Operational Support.

Take full advantage of over 35 years of experience in franchising. Our company has seen it all. Our system of operations give you the knowledge, guidelines, and methods you need to be successful now and in the future.

Marketing Support

& Comprehensive Training Program

.

Running a home improvement business has its own set of rules and Kitchen Tune-Up has the playbook. With or without marketing experience, you'll learn a whole new way to find the clients you need. Kitchen Tune-Up knows what it takes to get business and we cover all the bases.

We begin your training with a 4-week home study course, which is followed up with our all-inclusive, 14-Day

in-class training

at our

E

xperience Center in Dallas.

You will learn how to run, manage, market

,

and sell your products and services. After the in-class training, you will work one-on-one with your m

Regional Operations Manager

to complete your 12-Week Post-Training Action Plan which helps you hit the ground running with your

K

itchen Tune-Up

business. We work together to ensure your growth as a business owner and as an individual. But remember, this is only the beginning.

Ongoing Training

.

Your

training does not end after 12 weeks

.

W

e're always

working

to keep you the most informed and trained consultant in the kitchen

industry

.

You'll be able to continue to

expand

your knowledge

with our private podcast

s

, weekly coaching calls, monthly newsletters, online owner's forum,

and

weekly emails

.

Get even more in

-

depth

with our

National Reunions, online webinars

and

with your Regional Operations Manager

.

Our

Regional Opera

tions

Managers ensure that

every owner to be in contact with our

team on a consistent basis.

C

ontact our team

at any time

and take advantage of real

relationships

that keep you tuned in.

Group Buying Power. Negotiating a better price for our franchisees, and their customers, is just one more benefit of working within a franchise system. Get the level of competitive pricing that can only come from the buying power of a group of franchise owners. Buying a larger volume of supplies means our Kitchen Tune-Up franchisees get the attention and special benefits others don't.
Own Your Own Kitchen Remodeling Franchise.
Billions are spent each year to remodel millions of homes, apartments, and commercial locations. Kitchen Tune-Up has found a unique niche in this industry. Our "minor improvement" services give customers the convenience, quality, and products they want.
Are you ready to explore Kitchen Tune-Up franchise ownership?