Are you ready to explore Kitchen Tune-Up franchise ownership?
Hear What Kitchen Tune-Up Owners Say About Us
If you really want to know the truth about someone, ask the people who know them best. Watch the Day in the Life video below of Tom Taube, franchise owner of Kitchen Tune-Up, Charlotte, NC to hear why he made the exciting leap into franchising and what a typical day in his life looks like as a Kitchen Tune-Up franchisee.
You can also hear and read more stories below from franchisees who've been with us one, two, or even 25 years, and learn why they chose to join our family. We know you'll see yourself in one or more of our franchisee testimonials.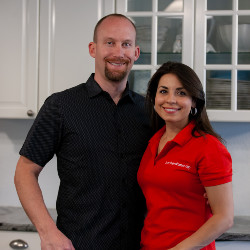 What advice can you give someone who's looking to buy?
For us, the process involved asking lots of questions, talking with other owners, financial analysis, as well as assessing our own talents and skills. Having not previously owned a business, this was a big decision for us, and we took our time to get comfortable. We have exceeded our own projections in many ways.
What made you take the leap and buy your own franchise?
I spent 20 years in sales and management roles in the mortgage and debt collection industries and my wife spent 20 years in sales and customer service in the insurance industry. After having helped build several companies for others, we simply couldn't stand to keep building for someone else. It was time to do it for us.
What is your biggest benefit as a franchise owner?
Franchise ownership has many benefits over just starting a stand-alone business. The supplier relationships, the brand reputation, the operational know how, and being able to leverage the collective experience of other owners really helped us get off the ground quickly.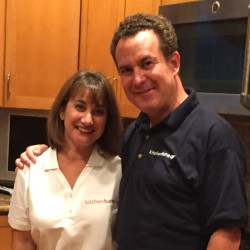 Why franchising?
We started the business when we were in our early 40's with three kids about to go to college. We couldn't take on the risk of starting something from scratch and decided that a franchise was our best chance for success. I've always had a passion and goal to have my own business.
Why Kitchen Tune-Up?
We picked Kitchen Tune-Up due to a few key factors:
The wonderful home office team and resources to assist in our launch and ultimate success.
The KTU family of owners- everyone we spoke with was so helpful and passionate about their success and sharing their skills and experience with other owners.
The business concept was strong and provided a product and mission that we passionately believe in. We love entertaining and cooking and the kitchen is the heart of the home and we wanted to allow anyone to have an affordable option to remodel their kitchen.
Why own your own franchise? What's been the biggest benefit?
I saw my career hitting a dead-end. I wanted to take the energy I had to build a future for my family. I also wanted to build an asset that we could sell when we were ready to retire. The joy of owning our own business. The camaraderie and collaboration with other owners to help each other succeed. We are not alone due to the support of the franchise parent and other owners.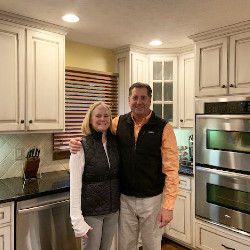 What made you go into franchising?
I went into franchising because after doing the same thing for 27 years, I knew if I didn't take the leap now, I never would. I like that in franchising I can control my own destiny of the business, build, and scale the business in my own market with opportunity to expand. I can make this my legacy project and build a strong business for my children, or we can set a goal to sell for early retirement, or just continue to own.
What was the biggest motivator to why you bought your own franchise?
Two reasons - life change & balance. My drive and motivation are far greater as an owner, and we can control our future direction with the franchise.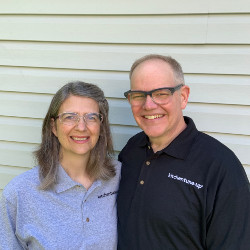 What made you go into franchising?
I worked for a major truck leasing company for 22 years in varying roles in operations, sales, and process consulting. I was tired of the little return on the investment I was making at work. I was burning out mentally, physically, and emotionally. In the selection process KTU really distinguished themselves with their positive culture and can-do attitude. It was very appealing. Plus, we spend a LOT of time in our kitchen. It is a place where memories are made, dreams are shared, and laughter occurs. We wanted to help people make their kitchens warm, inviting, and inspiring!"
What was the biggest motivator to WHY you bought your own franchise?
People, people, people! KTU people are eager to face new challenges, are genuine, and helpful every step of the way!
What have you learned about yourself since buying a Kitchen Tune-Up?
I have learned that I am better than I was told in my last job. I am looking forward to continuing to grow, develop, and learn this magnificent business I have bought into! I am over-the-moon thrilled with where I am at, and where I am going.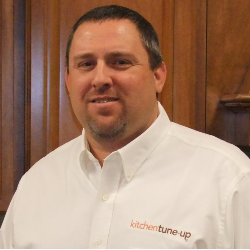 Any advice to prospective franchisees about taking the leap and buying their own franchise?
Do it! If you are self-motivated, creative, flexible, and willing to work hard then this is the program for you. Several people have asked us why we are part of a franchise instead of just going at it on our own. That's simple - the support and structure that the Kitchen Tune-Up Home Office team provides is second to none. When we get a little sidetracked or feel like we aren't moving in the right direction, they are always there to help with some excellent tips, self-reflection techniques, and just helping us get "back to the basics."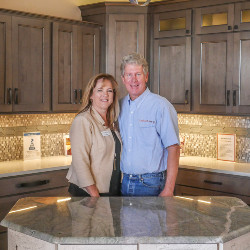 Why was Kitchen Tune-Up your top choice for a franchise?
We liked the market niche that Kitchen Tune-Up offers. With Kitchen Tune-Up's low investment, we were able to get a return on our investment in a short amount of time. We enjoy the camaraderie of the owners and the dedication of the Home Office who are committed to the success of the franchise owners. The initial and ongoing training is second to none! We have enjoyed the last 25 years with Kitchen Tune-Up and look forward to continued success in the future!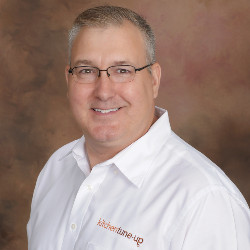 What about Kitchen Tune-Up appealed to you?
Kitchen Tune-Up is a "Home Improvement" business that has so many improvement ideas to offer every homeowner, property manager, or business owner. The services are high quality and are very much needed in our area!
Why did you decide to invest in a Kitchen Tune-Up franchise?
We've been in the remodeling industry for almost 20 years and have owned and operated our own remodeling business prior to purchasing a KTU franchise. We've seen all the added value that Kitchen Tune-Up had to offer and soon realized that this business would expand our ability to satisfy our clients. Kitchen Tune-Up really increased the quality of services we had to offer!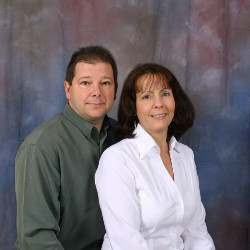 What did you like most about Kitchen Tune-Up?
The people at Kitchen Tune-Up are regular folks with our success being their central focus. From day one, I felt I could trust them and take them at their word. They have never disappointed me.
Why did you decide to invest in a Kitchen Tune-Up franchise?
I felt having the reconditioning service in addition to our other services really set KTU apart. We can offer a full range of solutions from just the "tune-up" (wood restoration) to a complete kitchen remodel…and everything in between.